As 2013 rolled into existence, I was sitting at home with my four year old daughter…in our pajamas… watching the clock on my computer. We were cuddled up and both smiling and wish each other a happy new year. I thought I would be happy to see 2012 behind me but I am not so sure…I have mixed feelings. The new year ahead will be full of changes for my family. The first thing I just HAD to do was get a new "free" blog up and running, so I can at least have a place to ramble…yes, I said ramble…lol! I used to always blog but now…being a mom…I almost feel like I have a 'censor' filter when I am writing a post, and that must change. So right now…forgive me for any grammatical errors….typos….or made-up words I may use from now on…lol!!! It is all being done in the name of my peace of mind.
So my first photo of the year was of the raindrops frozen on the tree limbs outside of my door. It was not very cold at all, but the water was just sitting there. I wish I had gotten a little bit closer but Aida was about to come springing through the door and it was still raining, so I had to get this pretty quickly.

It rained here most of the day, just as it did on Christmas. We stayed in and Aida slept late. For some reason, I cannot sleep past 8:00 am unless I stay up past 3:00am, which is just plain weird. It was almost lunch time when Aida got up so we enjoyed a late breakfast, sat around and watched some Netflix/Hulu. My dad came over to hang out with us for a bit and brought some dinner with him that my mom had cooked. We ate, played a game on the Kinect and watched little miss hyper jump around the entire time.
Then- this second day of the year was like any other normal work day… blah blahh…work work…lol! I actually felt pretty good today when I got off work., so Aida and I came home and took a few photos; here is one of my favorites that I will use for my 365 photo today. I do not get many photos of Aida and I being interactive, so it was pretty cool to set up the tripod and just click away and see what happen. She actually got a little attitude with me about who'd be in charge of the remote…so I am surprised we actually look happy in this photo….but this mama has very good negotiating skills so what other way would it be…lol!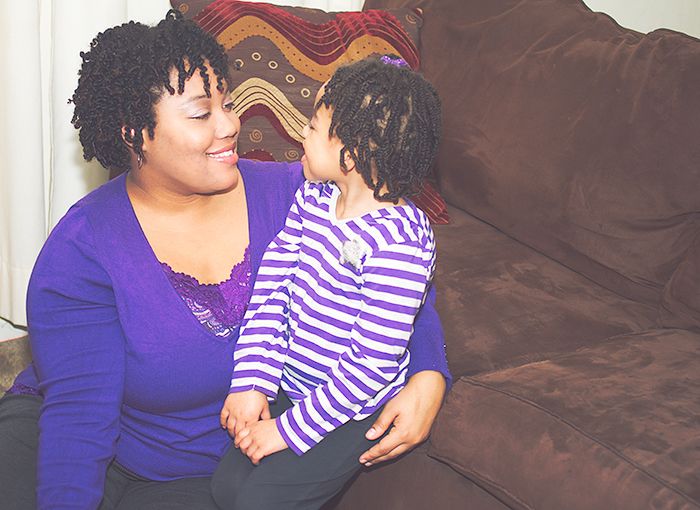 For 2013, I am going to try try again to do the photo a day project. This year will be the year of lots of changes so it should not be hard to get a photo. I see myself wanting to remember each of these moments before we move from the southern part of the US of A to cold country..as I am going to call it…lol! We'll see what happens!