Soo… yesterday was a pretty good day. It was my daughter's last day of school before her spring break starts. To only be in kindergarten, she has been very excited about this week off from school. I mean, she has just started with the school thing and she is already wanting a break. I kind of knew it would happen though. I get bored with things pretty quickly, especially when it feels like I am doing the same thing every day all the time. I like routine because I love knowing how my day should go but sometimes it can be a bit much.
Anyway, she is in the other room painting right now. She has been asking me to get out the paint for a little while now. I just wish she would turn off the cartoons. I thought the point of painting was to have fun with it and do something different… but not her. Netflix is going full force in the background. I did get her away from it a little bit on Thursday. When she was little, I took a cork board from Wal-Mart and decorated it with scrapbook paper and 3D flowers  and made a photo collage of our family for her. She would always go to it and name everyone. Well, as she got older and more destructive, she started taking some of the photos and embellishments off of it. So, we decided to redo it this week while she has time off from school. I let her pick the papers this time. I am going to try to put aside the control freak within me and let her choose what she wants it. I mean .. at the most .. I will at least make sure it all matches. That should be okay, right?
Speaking of changing things up, I recently completed a redo of a couple of my scrapbook pages. I took these two pages [here and here] and made them into this one page: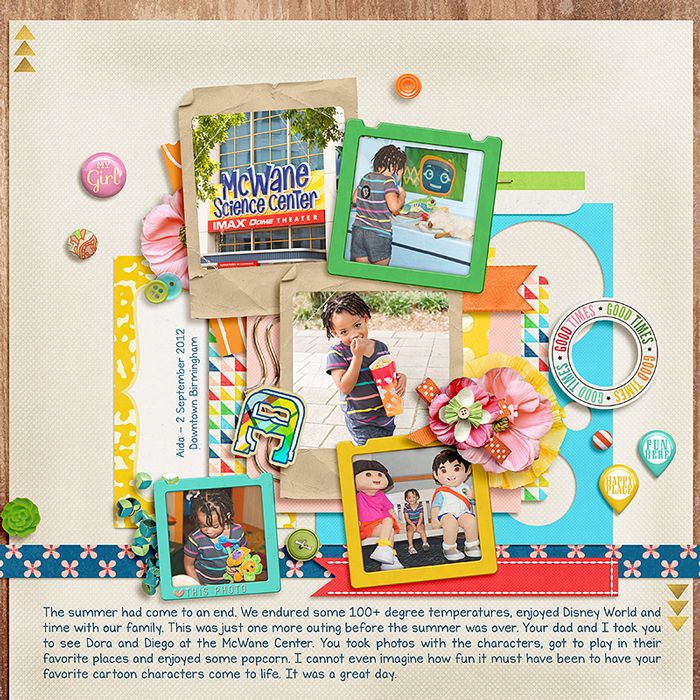 This page was mostly made with digital products by Creashens. I have so many digital supplies that I have barely used, and this day I really wanted to make over this page and play with some of the things I had bought. I remember when I would only scrap with one photo on a page. Once I started printing my pages and realizing that it was all about the "memory" for me and not the pretty kits… I got more into wanting to display my family's photos. Then if I had a series of photos that were all taken at the same time, it just started to make more sense that I would include more on a page to help "tell the story." It is rare that I will use frames from a digital kit but the frames I used on this page were just calling me.
On a different note, I turned 30 yesterday! Birthdays are not normally a happy day for me. Not because of my age or anything,  other reasons, but lately I have been trying to appreciate more of the little things that I love about my life. My husband says I am so pessimistic and feel like the world is out to get me that I don't ever just enjoy anything. Yesterday was different though. Even with a migraine that started Thursday, I had a pretty good day. After picking up my sweet girl from school, we all went to dinner, got us a couple of sweet treats to enjoy and came home to just relax together. Normally, everyone is on a computer or a device and we got away from that and it was a nice change of pace. I try to get them to do it more often with me… sometimes it happens, sometimes not…lol! My mom sent me a birthday card (as she always does) and made me remember what being a kid was like again. I still have most of the birthday cards I have gotten from her. What made my day even more special yesterday: I am officially 20 weeks pregnant. We won't find out baby's gender until April 9th and that day just cannot come fast enough. My daughter has been asking about the baby almost everyday. She even talks to the baby. Most times she says "I love you, baby" but lately she has been having actual conversations. It is the cutest thing. I know she is very excited to be a big sister. She has already expressed (with sadness) that she has no idea how to change a diaper. I could only laugh the day she told me, but I let her know it was okay and that mommy and daddy would handle that. Of course, I will have to let her help just so she can see what it is all about. I told her I learned from changing my Baby Alive doll …lol!
Anyway… more about that later. I have got some straightening up to do because a certain little lady did a great job reading this month and got awarded a free game of bowling. Hope you are enjoying your weekend!
Thanks for stopping by the blog!