I hope that everyone had a wonderful Christmas. I was not really feeling the spirit of Christmas but as the morning got closer and closer, I started to feel better about it. Of course, I had to be in good spirits for my little Aida. She has been singing Christmas songs all December. That always had me smiling. As she has gotten older and understands it more, we have been spending more time at home for Christmas. This year I got the three of us some pajamas to sit around in on Christmas Eve while we ate dinner and watched movies together. Little did I know, but there were some changes in our plans that kind of affected the 'mood' of the holiday…I guess I'll say it like that…lol! There will be some changes in the new year that will take some getting used to…but I will discuss that in the coming week or so.
Now back to Christmas- we had dinner at my parents' house this year with my nephew, his girlfriend and two children. It was definitely a fun and chaotic evening with the 3 toddlers running around. The baby girl turned a year old in May of this year and she is trying to talk but it is not words…not words that we understand. Words that she does know, she will throw them in the sentence with a little of her toddler talk mixed in. It is soooo cute! And she walks around like she owns the place and that is just the best part…lol! Even though Aida and her cousin are bigger (and older at 4 years old), baby girl is not afraid of either of them. My mom wanted to do all of the cooking, so Aida and I were in charge of the desserts. I remember the Chocolate Lava Cookies recipe on KevinandAmanda.com and decided to try that out. I bought all of the fixings to make cookie dough from scratch but I was just too tired. It still turned out so good. We made the cookies in a muffin pan and melted chocolate chips to make a nice filling, and we topped it off with some French Vanilla Breyers Ice Cream and hot chocolate syrup with some chocolate chips on top.  And of course, I scrapped about it :)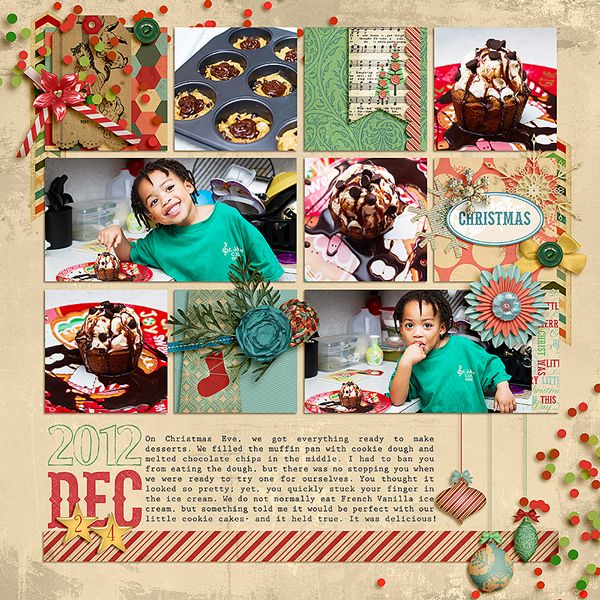 digital products used:
Now I have got to get back to my regular scheduled programming…of dinner and hopefully I can get in some scrapping time…thanks for visiting!!