So there is this thing at The Lilypad called BYOC (build your own collab). The designers make incredible pieces using the same color palette. TLP was always a dream team of mine when I first started digital scrapbooking, and it still is. The designers are amazing, the CT keeps making wonderful pages day after day and they have the best BYOC ever…like, all the time. I used to stay up late on Thursdays just to start loading my cart. I did not even care about work the next morning. Fast forward and it has been almost a year since I have been a Pollywog (creative team member) and I still love TLP…probably even more just because they have grown so much and still are. I love love the creativity. Sooo…my point is… it is a great place to be and you HAVE to check out the BYOC for June. I made 6 pages…oh, I just could not stop and there are still so many goodies I did not get a chance to 'touch'.
This first page has a rare photo of myself and daughter that I took with my phone. I do not like taking photos but she really wanted me to, so I complied.
digital products used:
This next page has a couple of photos from this past Sunday. We explored the area a little. We got a chance to see Lake Mendota and afterwards, we walked down State Street. It is a street downtown with all types of storefronts, restaurants and vendors and cars are not allowed down the street. It was pretty nice to be able to walk down the street without worrying if a car was going to come flying down the road at any moment.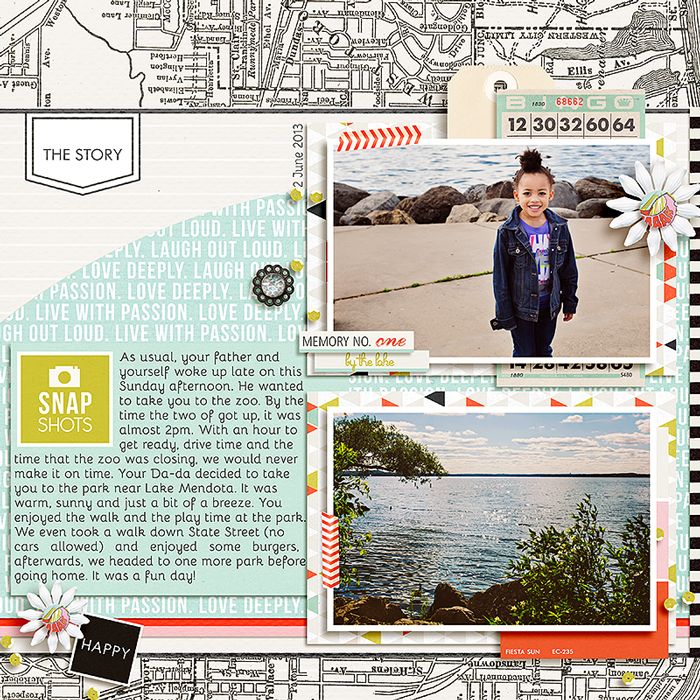 digital supplies used:
I did not want to make the post too long, so if you would like to see my other two pages created with the BYOC, please look here. I decided to turn one of my pages into a template. Photos are always the most important thing on the page (along with the journaling) because it is the story and that is the part of the page you want to be able to see well into later years. Please enjoy the template. If you feel the urge to share your page, I would love to see what you create. Link me up in the comments below.
Happy Friday and thanks for visiting!