Just wanted to do a quick share today of some of the photos I took yesterday. There are not many, but I love the ones I did get. I wish we had all taken one together but I just did not have the energy. I was up pretty early around 7 am and started preparing our dinner. I usually do not eat cranberry sauce because of my weird food issues. Just seeing something like that come out of can does not look appetizing. So, I searched for a recipe and found this one to try. I changed the recipe up just a bit and used half brown sugar and half white sugar. I also added in a pinch of cinnamon and about a tablespoon of pineapple juice. It was actually pretty tasty. The hubs smoked a turkey and it was delicious. I am not a big turkey fan but he may have changed my mind this time around. It has just the right amount of that hickory flavor. I am thinking about making myself turkey taco for dinner tonight. Hmm.. we shall see. Anyway… here is the photo collage I put together…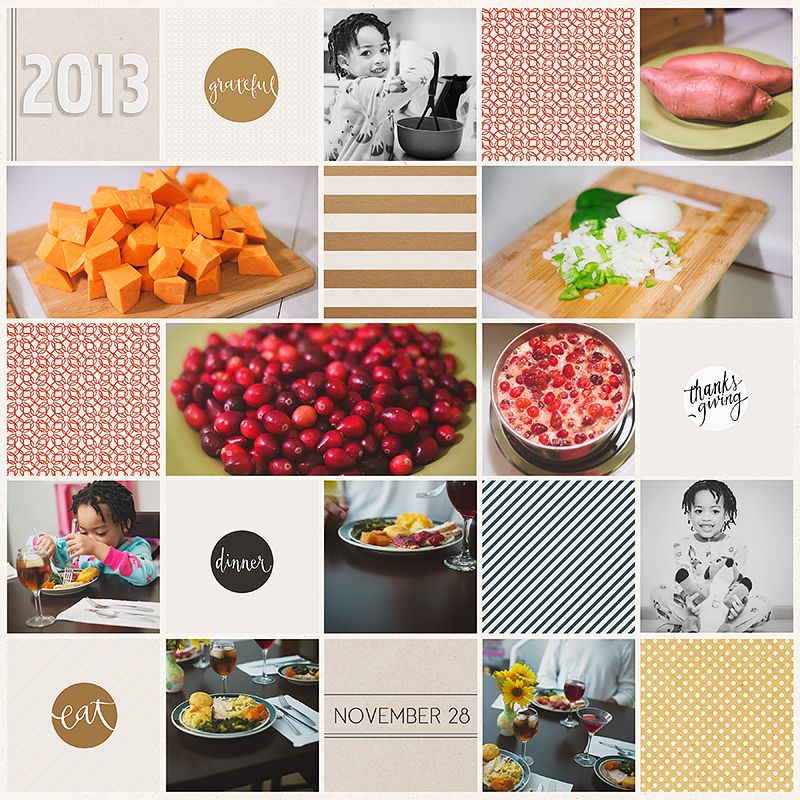 I used the following digital items from The Lilypad:
Press cards no. 30 / Pictures words no. 8 / Is it Friday Papers / Magic Hour Papers / Photobooth – Paislee Press
Enlightened – One Little Bird
Stuck On Alpha – Kaye Winiecki
I am thinking this will be an insert for my project life 2013 album, and will put our menu on a journal card for this day. If you would like to create a similar collage of your own, I have packaged up this template in PSD and TIF form for download. Enjoy!
Please feel free to share your creations in the comments below. I would love to see what you create!
Thanks for visiting! [icon name="icon-smile"]