Not feeling too great today but wanted to go ahead and post for the day. I keep waiting and who knows if it will happen.
First, I am thankful for my time (Day 8). This is the only time in my adult life that I have felt like I have time to do the things that I want. I used to be upset when I would get home from work when I look around and realize that coming home was not as relaxing as it should be. It was just more work. I am very grateful to have a different perspective.
Today, I am thankful for my daughter. She means the world to me. I always say that my life changed the day she was born and it could not be more true. I have really gotten a chance to watch her grow up these past few months and she just keep surprising me every day. I am very lucky and proud to be her mother.
And….I scrapped today. [icon name="icon-smile"] I have been working on going back through my photos from this year. I mostly scrapped along with the year this time around but some photos still got missed in the shuffle. What I started doing was to edit a batch of photos that I really wanted to use and put them in a folder called "Photos to Scrap." So, when I am getting ready to start a page, I just grab a photo from there. Now, sometimes, I have another photo in mind and I will just go find it, but I really try to stay within that folder. That way all the events or moments that I really want to scrap do not get forgotten among the thousands of photos sitting on my external drive.
I did a little blending with the background paper this time. I rarely blend. Not because I do not like it, it is just not something I think to do very often. For this page though, I wanted to keep the background white, so I applied a black-to-white gradient layer on the paper with the flower (to remove the color) before blending it into the white paper and playing with the opacity settings.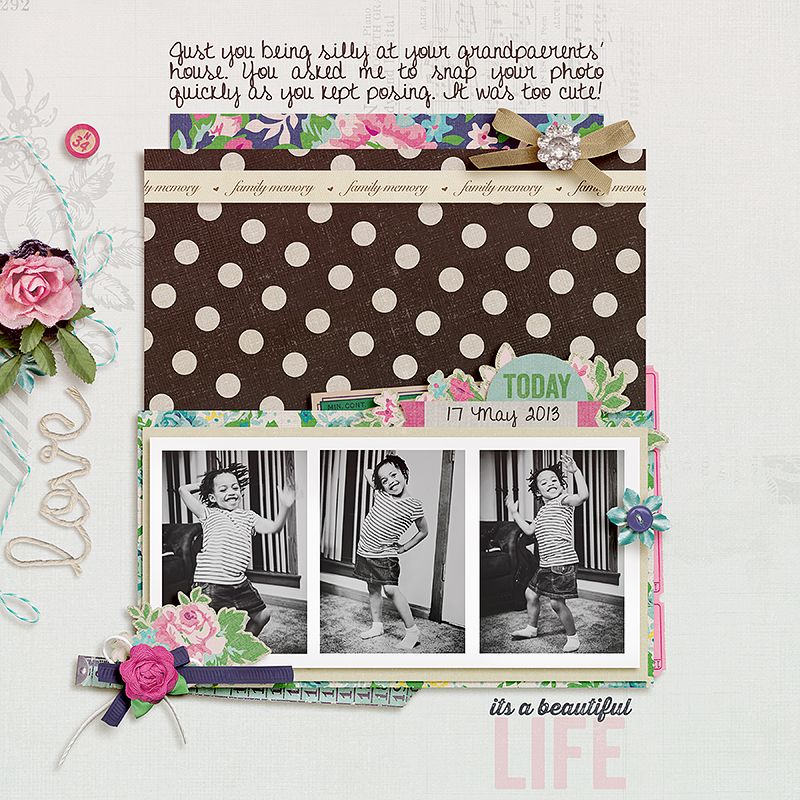 digital products used:
I have to add that I love love this kit too. I am thinking it will be making another appearance in a few of upcoming project life pages. The patterned papers are gorgeous.
Thanks for visiting!!