Today was the first day with Aida and I at home – no work and no daycare. That was how we had labeled our weekdays the past few years. "This is a work and daycare day"- I would remind her each morning. It got to the point where if I was taking off to give us some time together, she would ask when she was going to daycare. It made me sad but I knew how we got to that so I understood. My sweet child has also been reminding me of her daily activities that normally go on at daycare. I wonder what happens if I keep deviating from the plan that she believes is the right way to do things.
We got a chance to work on some alphabets which she was excited to do. She loves to learn and write. The only problem is that she also loves to be the boss. Hard to be the leader of things if you are practicing/learning the info at the same time. Or at least I thought so.
Most of our day was filled with packing and doing laundry. "Oh how fun!" ..ha! Did I mention that part? I really am already not liking this move thing. There is just too much to do. Add in the fact that I am a scatter brain and it is just chaos. I see one thing I need to do…I start that task and then I remember something else and start on it. Sooo….I have like 3 or 4 tasks all started at the the same time. I cannot just pack one room. I go from room to room doing things…lol! Does that even make sense now that I have typed it out? Probably not! Sorry! lol! Yes- I tend to "lol" a lot….so if that annoys you, you might want to run now away from my blog. :)
Anddd… I even had a minute to complete a page I had started the night before. Silent applause here! :)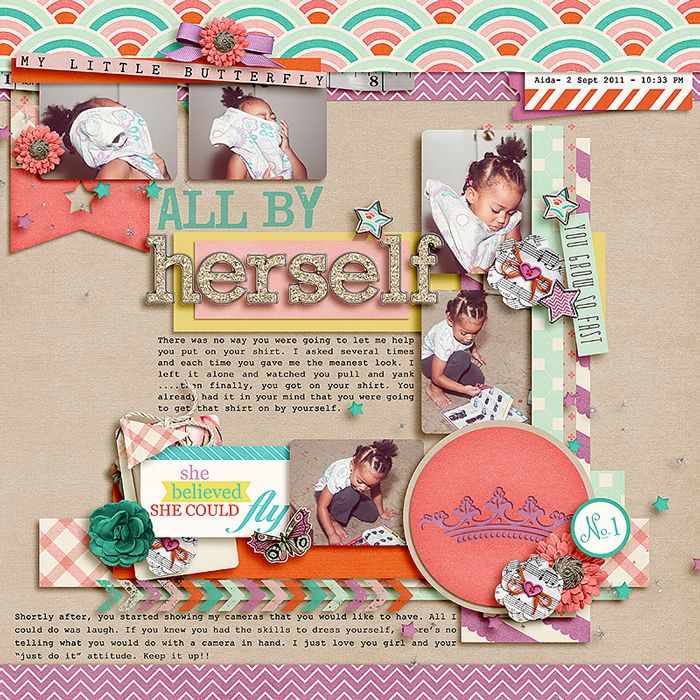 These photos on the layout are from two years ago. I have so many that I have not had the chance to scrap but hopefully I can make up for some lost time. Every few weeks or so I try to create a page just for me. I choose the photos and then the kit and just let it go from there. I have had a lot on my mind lately so my scrapping morale has been pretty low. I decided to use a template that would be one I would normally shy away from and do my best to "make it my own." I really love how this page turned out. The following digital products were used:
Grasshopper Pie Template by Little Green Frog  Designs
She Believed She Could Fly by Erin Kay Studio
One in  a Million Alpha by Erin Kay Studio & Stolen Moments Designs
It is late here and I can not stay up past midnight anymore. I have tried and keep failing. Ever since I took a week off before Christmas, and was sleeping when my body wanted me to sleep, I have not been able to stay up past 11 pm; and if I do, I never make it to midnight. Later!