NSD weekend is almost over….but not yet. I completely forgot to come back and post. Bad me! Lots of sales and challenges are still going on. Today is the last day for the storewide 30% off sale at Sweet Shoppe Designs and The Lilypad. If there is any digital scrapbook item (kit, element,  paper pack…etc..) that you have been wanting, now is the time to get it. I love shopping on NSD weekend just because of the great deals you find at the forums and other social media (i.e. facebook, twitter). This year I am beyond grateful to be on the creative team of my favorite stores. So many new and wonderful products were released this week. I definitely did not have enough time to create. I have a few of my favorite pages to share. This first page I made last night. I downloaded the kit yesterday and as soon as I unzipped the kit, I knew exactly what I wanted to do. It usually takes me a long time (more than an hour) to finish a page, but this really inspired me.

Then there these journal cards that I really needed to use and that inspired my very first project life page for 2013. I love my 2012 album colors but I need more color and I think I will definitely have that.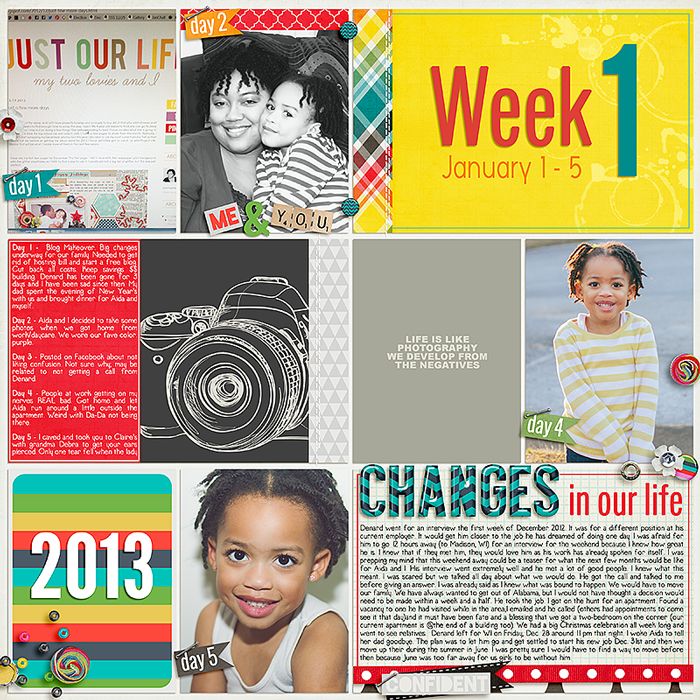 The next couple of pages include more photos from our day out to the Children's Museum. Surely, I could put these all on one page but some I really wanted to highlight before I do a spread of photos.

digital products used in these layouts:
Get Your Craft On by Lauren Grier, Micheline Martin & Valorie Wibbens
Trendy Tween Journaling Cards
35 mm Journaling Cards
Things that go Vroom Vroom Papers
Be (kit)
Geeky Boy
Woodland Wonder: Papers and Elements by Jenn Barrette
Vintage Worn and Torn Papers by Sahlin Studio
You Make Me Smile by Mari Koegelenberg and Sugarplum Paperie
Bohemian Beauty by Sweet Shoppe Designs
Jar of Hearts by Erica Zane and Studio Basic
Layered Cards: Everyday 5 by Cindy Schneider
Font: Bailey by Darcy Baldwin
Now… I am going to check on our dinner. Maybe I will be back with pretty photos…I am not sure….but I am trying this recipe tonight: Slow Cooker Lemon Pepper Chicken. Thanks for visiting!