I have been creating layouts for my project life album and when I got to my vacation photos, I was a little hesitant. So far, a few of the photos have been used on pages for my daughter's album. For the album centered around the whole family, I really wanted to create a page for each day of the vacation, but there are so many photos I want to include. I want this portion of the album to be like an insert for that week. So, I got an idea to use this great set of templates by Design by Lili (at The Lilypad). Now the templates are 6 x 6 and I scrap my pages at 3600 x 3600. By placing four of the templates together, I was able to get the look I had in mind.
Now creating a page with so many photos, there are a few things to keep in mind. More photos could look like more clutter unless you keep the embellishments to a minimum. I chose a nice white background paper as the base (which I use for all of the Disney pages) and then I clipped patterned papers to some of the photo blocks to add in a bit of color.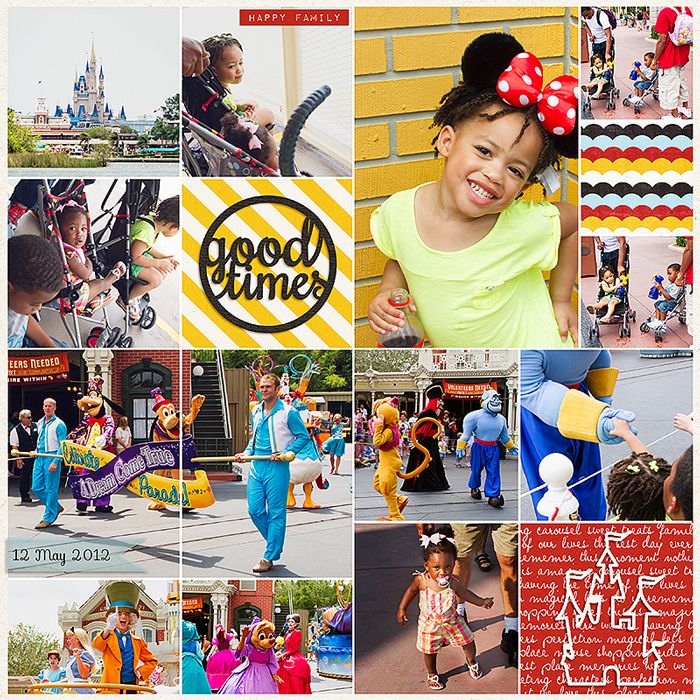 By using a journal card for the story, I was able to keep the text in one place and utilize most of the blocks for photos. It did take some time to complete the pages but not as long as I thought. The time was reduced by having the photos edited and ready to clip onto the photo blocks. I cannot wait to print these out. I think the best is being able to have little snapshots of all of my favorite moments of the trip.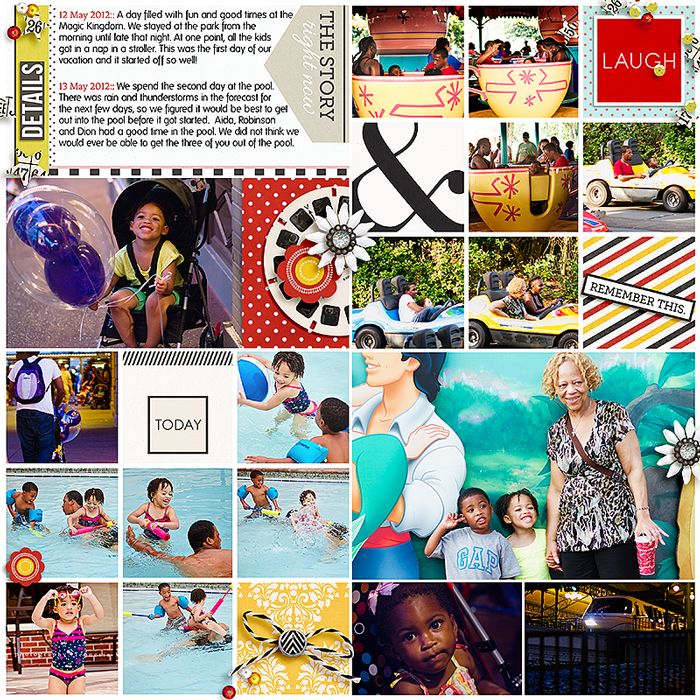 digital supplies used:
Another idea I tried for this trip was keeping little notes on my phone throughout the day whenever I had a moment of downtime. In the car or when the kids were resting or right after lunch or dinner or before bed, I would enter my thoughts in one of two apps on my iPhone: Momento or Everyday Me. Momento is very organized and I love that I can link up my accounts and it will add any published feeds (such as blog, instagram, facebook, etc) to my "notes." It has a calendar that lets you know if you have entries for the day. You can also attach photos from your phone's camera roll. Everday Me is very similar except it is a free app. My favorite part about Everyday Me is that they will email you a copy of your backup file. With Momento, you will have to access Momento in iTunes to export a copy (in .txt format) of your notes (with links to your entries from a published feed). You cannot go wrong with either one but I am indecisive and to use both. I rarely connect my phone to my computer, so having to export notes via iTunes can be a bit annoying for me. Hope this info will help you document your vacation a little bit easier! :)
Thanks for visiting!