I am pretty excited about the new releases at The Lilypad (TLP). Each week the designers create more and more amazing products. I think my absolute favorite thing about TLP is that no matter whether it is a kit, an element pack or an alpha set, it is so easy to mix-and-match products.  This week is the release of the Document Your December (DYD) products and it is definitely a favorite of mine. I was not sure if I had any Christmas photos from last year left to scrap, but I did find some that I had been holding onto until the perfect thing came along to create a layout. The whole idea of planning ahead and documenting December separate from Project Life is not one that has worked out for me. If you were to do a search on any search engine, you might find people talking about foundation pages and pre-planning. I just cannot do it. For me, it is all in my head (lol!). It is like my brain cannot compute creating a page without photos. My photos and stories are what bring the emotion that drives how I will design a page. Who knows…maybe I will try it this year. There are few activities around here that I want my family to check out. Plus, it will be our first Christmas with snow. I am not sure if I am excited or afraid of the cold that is steadily approaching. My daughter is super excited though. Last week there was a light snowfall and when she came out of school, she just wanted to touch as much of it as she could.
Back to the subject at hand, I might might try Document Your December again and building some digital pages and leave the spots for photos. It will definitely require some serious thought on my part. I have a few projects I am trying to keep track of already. Now – for the new releases at TLP I have created two pages so far.
On this first page, I used photos that were taken with my Canon G12. They were a bit grainy because of the low light but since these are RAW files, I was able to save the photos. We did Elf on the Shelf last year and I still have some photos I need to document in our 2012 album. I thought she would be afraid of the little elf but we actually had fun "seeing" him stirring up trouble.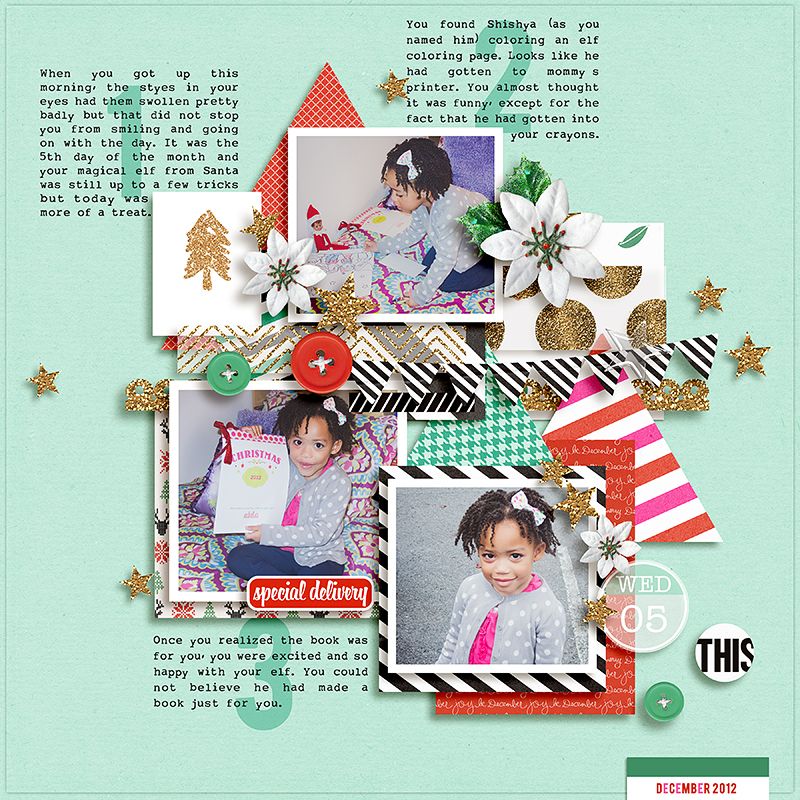 On this next page are photos of my daughter and I's experimental craft. She really wanted to make something to hang on our tree, so I told her she could make little cardboard trees. They are not perfect but she had fun painting and gluing.
These pages were created with the following:
Thanks for visiting!!