So, baby girl turned 5 last month. For the past year and a half, she has done very well communicating and getting the hang of sentence structure. We can talk and I do not feel like I need a kid interpreter. When it seemed to her like we (her parents) were confused, she would say to us, "Listen. You do not understand what I am saying." I would smirk a little and ask her to start over, and eventually, she would get frustrated and then I would feel bad for not knowing what she was trying to say. It takes a few times and we figure out the idea she is trying to communicate. Lately, there has been a lot of improvement. She is better at choosing verbs that match the subject of her sentence. When I was completing the second scrapbook page of her birthday photos, I asked her if she wanted to add her thoughts to the page.
I asked my daughter to tell me what turning 5 means to her. I know it was a huge thing for her because she was asking about her birthday since last summer. She was excited to be a big girl. This is what she told me:
I get to go to big school, watch TV and eat and drink. I tell my mommy and daddy to play with me. My mommy and daddy are the best mommy and daddy and I really love them so much. I will make them be nice. I really enjoyed my party. I want to give my parents cute pretty flowers.  I really want to take nice pictures of my parents.
I have been limiting what types of beverages she drinks lately (juice only with meals and water only after 8 pm) and she does not like that. She thinks that turning 5 will allow her to do more things like her dad and I. Surely, she had some type of misconception (lol!). No idea why she wants to grow up so soon. We all need a few rules…I think. :)
The completed page is below. The template is Simple Beauty by Misty Cato. I wanted a kit to match her birthday outfit, so I chose Jill of All Trades by Erica Zane and Libby Pritchett and Tell Me About it by Erica Zane and Stolen Moments.
I also tried a new set of photo actions by Erin Tietz of Glitter & Co. called Urban Beauty (action used: small town girl). Before I use actions I do all of the clean processing first, and then apply the action at a low opacity between 15%-35%.  To me, it should not look like you used an action. I love deep, rich photos and I really love how these turned out. The 'Small Town Girl' action from the set was my favorite. I love how it affected my daughter's skin tone; it gave her a nice, healthy color. She normally looks so yellow but this action has such nice tones, so  I will definitely be using it again.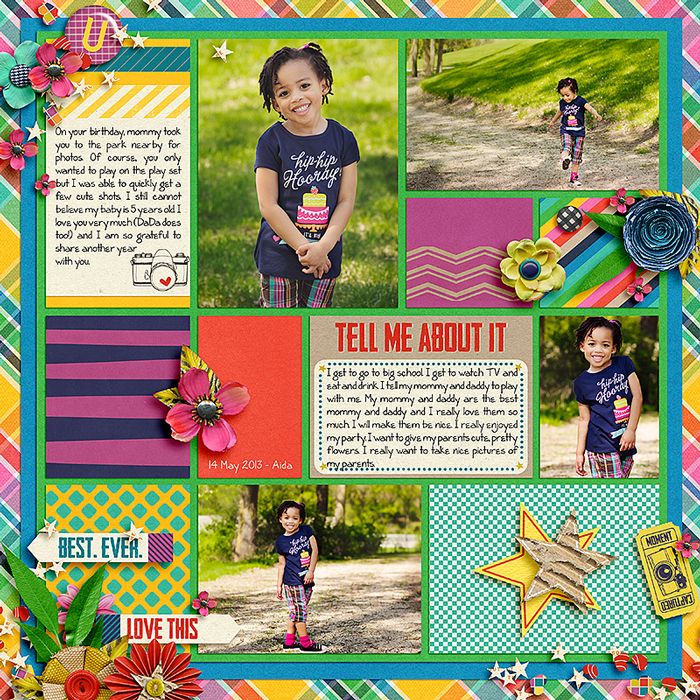 I used to be afraid of so much color on a scrapbook page. Now, I just have to use it, especially if the moment being scrapped calls for fun and colorful.
Have a great Sunday!