Every now and then I get a wonderful "in my face" reminder of why I need to listen to my child. Some things she says are just not believable, so it is hard to go along with all of it. The other day I was about to start dinner. I always ask her what does she want to eat. I am not that parent that just makes food and says "this is what you are eating." I am pretty laid back because I remember being a picky eater myself. So…  she had been telling me she used to eat peas at daycare and they are her favorite. She has even told this to random people. I finally decided to test it out (as I have with other foods). For dinner that night I made baked chicken, broccoli & carrots stir fry, brown rice and those green peas. Let me just say, I hate peas – of any kind. I do not eat green peas, black-eyed peas and any other kind of pea. They are like mushy on the inside and I hate that…soft food.  Just…ew! So, I fixed our plates with a little of everything.
I told her if she really ate those peas I would try them. She was all for that! She probably ate 3 helpings of peas – small helpings of course, but she was still asking for more. It really surprised me. She ate more peas than she did any other item on her plate. This made me glad. Some of the foods she says she likes, she does not really like them. I think she just sees people around her eating them, and then gets the feeling like she needs to try and like them since everyone else enjoys it. I still don't see her enjoying tacos with us anytime soon, but I will keep hope alive (lol!).
On another note, for the digital scrapbook addicts like myself, there is a store wide sale at The Lilypad that started today and lasts until Monday (August 19th).  Check that out if you feel the need to shop. I feel like that quite often… sooo.. lol!! I just wanted to share a couple of pages before I go. I have my little one right here urging me to start up this game with her. Looks like I may get back into gaming just a little bit…if this is fun – League of Legends, that is. I really liked how World of Warcraft was set up and this seems a bit different, so I am not sure yet. My summoner name was hard to choose… I went with a favorite from a TV show that I am into right now – MrsHeisenberg (from Walt on Breaking Bad). Ooohh..will have to talk about that at another time. Anywho- here are those pages and I hope everyone is having a great Friday night. :)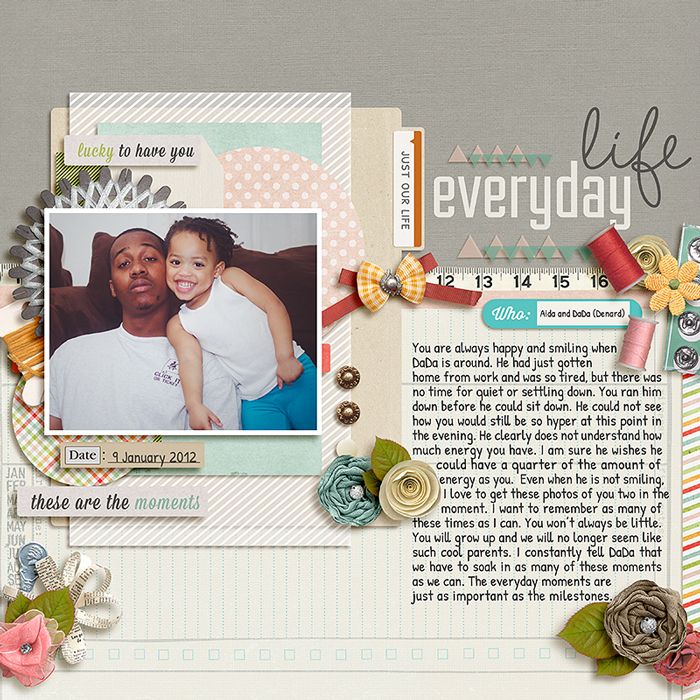 digital products used:
A Little Bit of That Elements and Papers – Amy Wolff
Sew Happy Together – Mye De Leon
Cream and Sugar Papers – Valorie Wibbens
Evidence Paper Pack – Splendid Fiins
Generations Collab – Paislee Press, One Little Bird and Traci Murphy
Clementine Fabric Blooms | Retro Journaling Cards – Sahlin Studio
Thanks for visiting!!