Warmer days are here…finally!! I am so excited. This past weekend it was beautiful outside. Lots of sunshine and people were outside all over the place. It is the first day of May and the month is already starting off very well. I have been busy with creating pages for National Scrapbooking Day (NSD), which is this Saturday, May 4th. There are so many activities that will be going on all week long and some will not end until next week. I will come back later and do a post of links to some of the festivities.
Right now, I really wanted to share my latest project. Browsing through a certain favorite store of mine, I came across these notebooks called smash books. I remember when quite a few of the digital ladies on my FB feed were doing them and at the time, I did not have the time to even look at paper goods for scrapping. Fast forward to present day- and I have more time to do some things for myself. I have plenty of journals from when I was younger and have been anxious to start one as an adult. I figure this will be fun and will give me a chance to do a little scrapbooking of my own random thoughts.
Now- for the cover of my scrap journal, I chose the PrettyPink journal which has this beautifully embossed cover. I started looking through Pinterest and google to see how to pretty up the outside a little more and make it more me. I absolutely love color. I came across an idea on Pinterest to color in the embossing. I thought, "why not?" So I went to Amazon and got on the hunt for markers and found a nice variety pack. The colors are very nice in person and I think I am going to have to do some doodles on my own besides on the cover of the book. The colors came out darker when I was coloring in the design on the journal because of the material.
I cannot see very well at all, so to follow the embossing I had to stay under the light. The whole time I kept thinking "what if I mess up." Well, I had to stop worrying because it was slowing me down. Within 30 minutes or so, this is what I got done the first night while my overly active child was running around.
I finished up the coloring the cover the next night once everyone was in bed asleep. I love to add lace to digital scrapbook pages, so of course, I had gotten some of that. I like this pack because it has 4 different styles. Some scalloped and some not. It is nice and stretchy. I also got a small pack of ribbon and use a piece of the brown ribbon with the lace to line the edge of the journal.
I used a glue stick to hold these down, but I wish I had looked for reviews on a better type of adhesive for this. I ended up using my glue dot roller. The adhesive on it was much stronger than that of the glue stick. I will probably give the glue stick to my daughter for her crafts. The two flowers added onto the cover were definitely an impulsive buy at Target. They looked pretty, so I had to have them. I was pretty happy to see it all coming together. Scrapping with tangible items is much different than digital. It took more time as far as cutting and gluing pieces and I took even longer to decide what to use. It was relaxing though. My fiance says he did not know I would be up so late "cutting butterflies." So now, whenever I mention my scrap journal, he ask how many more butterflies will I be cutting. When you see my first page inside, you will know what he means, but it is not like I cut a bunch of them or something. Anyway, here is the finished cover: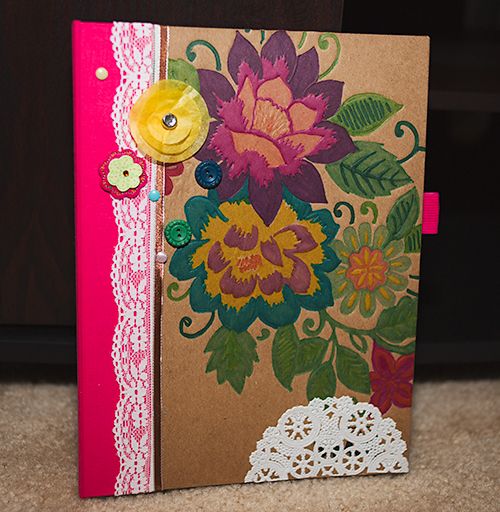 I wanted the first page inside just to be a little intro. I already want to re-do it as I look at it. I like it but I wish I had taken more time with the writing part of it. There are many facets to my handwriting..lol! Seriously, I write at least 4 different ways and it really depends on the mood I am in. I have always LOVED to write. The inside page will be posted soon, I have a few things I want to share related to NSD later today. :)
Products used on this project: