I kept trying to think of something to post on the blog. I cannot create scrapbook pages, take photos or do anything remotely creative or with "thought" when my mind is not in the right place. I was really trying to post but just could not do it. I wonder how so many bloggers are able to post daily or even weekly. I understand the spiel about writing posts in advance but I had nothing prepared in "advance." I blog on a whim or just when it hits me to share something. I cannot genuinely post if I do not feel like I have anything to post.
So…. in lieu of trying to get out of my funk, I decided to start a "Scrap Your Stash" series. At least twice a month, I will decide on a color palette, prompt or theme and will use this as a starting point to create a scrapbook layout. I enjoy going through my digital stash and choosing papers and embellishments according to the theme that I want. Mixing and matching items seems to be a bit of a refresher for me. I do not always choose kits to match a photo but when I get a chance it turns out to be fun. I do not let the palette set by the kit or collection determine how I will use them. I do my best to go outside the lines. The first color palette of the series:
I chose these colors after I saw these photos of my daughter and I from last year that I have never scrapped. I know the holidays are coming but I really needed a break from the autumn and Christmas focused photos. These colors are cool and I can see potential for them to be used on various types of pages. Only having a little girl to scrap for mainly has definitely led me to stray away from the pink and girly colors when I can.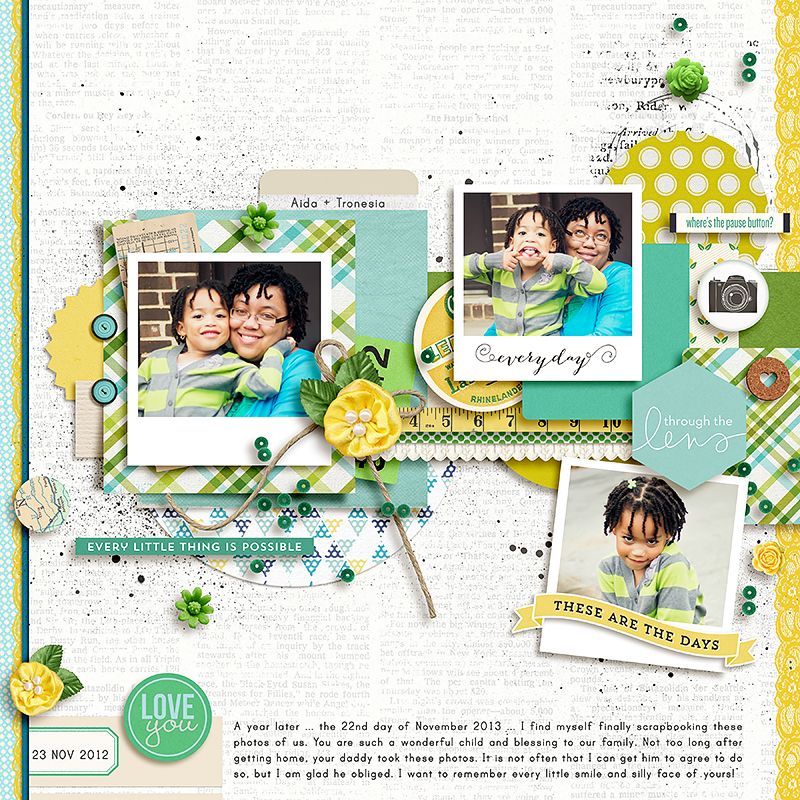 The following digital items were used:
Kraft Essentials + Sup Papers + Mellow Yellow – Karla Dudley
Call Me – Lauren Reid
Techno Geek Papers – Kristin Aagard
Foodie Papers + Click Elements + Forever Young- One Little Bird
Brushes and Stamps Set 6 – Pink Poppy Press
Fresh – One Little Bird + Sahlin Studio
Candy Flowers + Down the Lane (ephemera) – Sahlin Studio
For the font, I chose to use Print Clearly in bold. My daughter definitely inspired the font choice. I received a package of printed project life pages and some of her album pages this week and she made me sit there and read all of them to her. Since she has started school, she has started to read more on her own and not been afraid to sound out words. So… in an effort to get her to read the pages and feel comfortable about it, I have been using this font as it is simple and a great example of the type of letters she should be writing. Plus, it is easy to read for this blind mama… lol!
If you have a page with this color palette or have created one, please feel free to share in the comments! I would love to see them and be inspired!
Thanks for visiting!!