For most of the time that I have been scrapbooking, it has just been mostly for my daughter. As time went on I started to document more about our family's life. Fast forward to now, and I have a little guy to scrap for also. I started getting ideas of how I wanted to do his first album when I found out I was having a boy. The only thing that has been a little difficult for me is deciding color schemes on pages where he and his sister are in photos. I just wonder if I should keep the colors more neutral for pages about both kiddos or just go with the flow and use the colors in the photo as a starting point.
Last month I got a chance to take advantage of some great dollar deals at Pixels & Company. One of my favorite designers, Karla Dudley, had this collection that I just had to have. I always fall in love with her papers; when I saw her collection that was part of the promotion for the month, I knew I had to have it all. I did not even look at it for long. I saw it in the store newsletter and just grabbed it almost immediately. I combined her "Bestie" collection pieces along with a kit from Creashens (another favorite designer at Pixels & Co).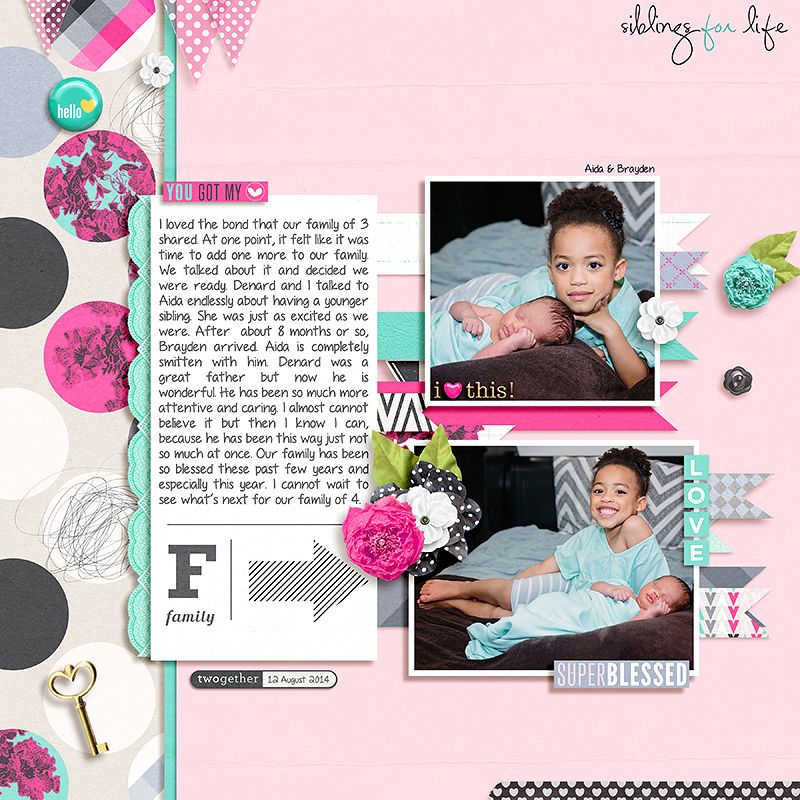 When I saw the kit, I knew just what photos I wanted to scrap with it. I took a few photos the other day of my babies. I was cleaning out my daughter's closet to get rid of clothes that were too small and discovered this shirt that still had the tag on it. It matched perfectly to the baby's blanket; that got my wheels turning and next thing I know, I had them set to take a couple of photos together. Aida was too excited to take photos with her baby brother. Over the past few months, I have watched her change and once she met her brother, her whole attitude changed. I kept wondering "who is this child?" and "where did my baby girl go?" It is like she grew up overnight.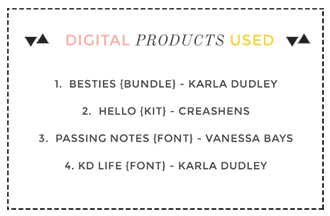 Since baby boy was born, she has been in his face non-stop. It's cute for a little while and then I have to remind her to give him some breathing room. Seeing her console him while he is crying is the sweetest thing. She has already made up a few songs for him….and, he's actually fallen asleep while listening to her!
Anywho… I am pretty happy with how my page turned out and will keep experimenting with color to see what I like best.
Thanks for visiting! Hope your Monday is off to a good start!