Saturday…Saturday…. I no longer count down the week days waiting on the weekend to get here for relief. My mind is clear. Sometimes it is too clear that I start to think of or find things that I just need to be doing. Being a working mom since my daughter was born makes it a little more trying to be a stay at home mom. She is 4 and we are able to do more things, but there have been days that I felt like I was just getting to know this little human being next to me. That made me sad. Fast forward a few days and you have her telling me she wants mommy to get a job so that she can go to a new daycare and make new friends (she is such the social butterfly!). We only have a few months or so left until she begins school and I am not sure how we will make it. Some days she wants to leave the house and some days she does not. I ask her to play or start some reading exercises and she is like, "Mommy, I am busy." Lol! So that makes it hard to determine how she really is feeling. I know she is okay but I also know she likes to be more social than I.
I have always been quiet and to myself. I have moments where I wish I had someone to talk to but those moments are not very common for me. Most times I would rather enjoy the quiet or I will just talk to Denard or call and see what one of my parents is doing. Aida is a little different; she is more outgoing, like her father. I have made us a little calendar of the things going on in the area at the library, Childrens' Museum and natural science center. Hopefully she will enjoy those.
Today, we attended the Madison Kids Expo which she enjoyed but, according to her dad, she was the best behaved child there. She was waiting her turn for everything, saying 'please and thank you', and being careful not to bump into anyone. She was more polite than most of the adults there..lol! I mean it was weird! She eventually loosened up. She got to get in a firetruck, see some really cool animals and bounce in a play house and trampoline. She even won a free month of martial arts classes, which she has been asking about before we got here. It reminded me of the Southern Women Show that was in Birmingham, except this one was focused on kids. It was pretty cool. I will have to come back later with photos.
I do have a few scrap book pages to share – a few of my recent favorites. Although I hate flowers on anything that I buy (clothes, bedding, towels, blankets, etc), I tend to put them all over my pages. I am not sure why. It is like addicting for me.
These first couple of pages are using some of Gina of Digital Design Essentials latest releases. I just love the bright colors; I probably got carried away with them on this first page. :)
digital products used: 
all by Digital Design Essentials
Neon Crush Paper Pack
Neon Crush Journaling Cards
Neon Love Paper Pack
Label Crush
Instax Crush
Paper Lace
Creative Spark Collection
Live Free
Oh Happy Day
This next page, I had to do it. I had gotten these adorable photos of Aida in the snow in her pink coat and I knew this wood paper would be perfect with the pink.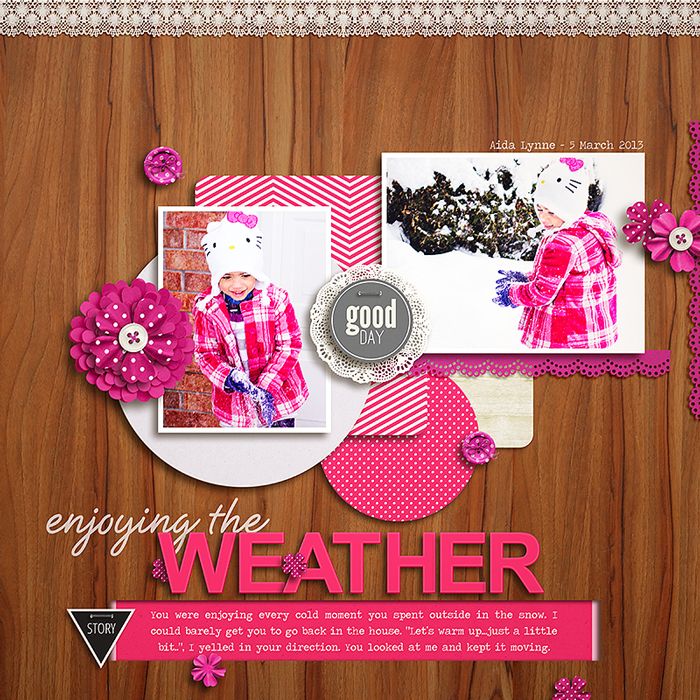 digital products used: 
all by Digital Design Essentials
Holiday Cheer Kit
Fridge Magnets Alpha: Pink
Neon Love Paper Pack
Neon Love Paper Pack
Beyond Measure
Everyday Tags
Happiness Lives Here
Creative Spark Kit
This last page is one that just kind of came together as I went. I needed it to have black & white and color photos but I wanted to use the same photo. I wanted nice girly, soft colors and lots of layers all over these tags. Each tag (in my mind) had a little theme. The first I applied a paint stroke with flowers, and then the next was the ribbon and paper strips, the third one was circle layers (papers, a frame and circular element) and the last was a ribbon with a couple of card elements from the kit held down with a ribbon. Then I just started adding in the photos where I wanted those and add a few more elements. I loved the lace pieces in the kit so I had to add those in somewhere. The stitches on the lavender mat paper were made using the hyphen of a plain font (cannot remember which one) and applying a shadow. This is probably one of most favorite pages I have made this year just because I got a chance to go with the flow and just let it happen.
digitals product used:
Thanks for visiting! :)