Yesterday's sketch at the Bella Blvd. blog caught my eye. I had just downloaded the Holiday Idea Notebook from Digital Design Essentials and I knew I had to use that sketch to create a page. More and more paper scrap booking layouts have been catching my interest, and this sketch was calling me. I only used items from the Idea Notebook and I used one paper from the Beyond Measure paper pack and changed the color up just a bit to match the yellow in the Idea Notebook papers and elements. Did that make sense at all?? In my head, it made sense…lol! Anyway…here is my page using some photos of Aida from last year in a dress that her father picked out for her…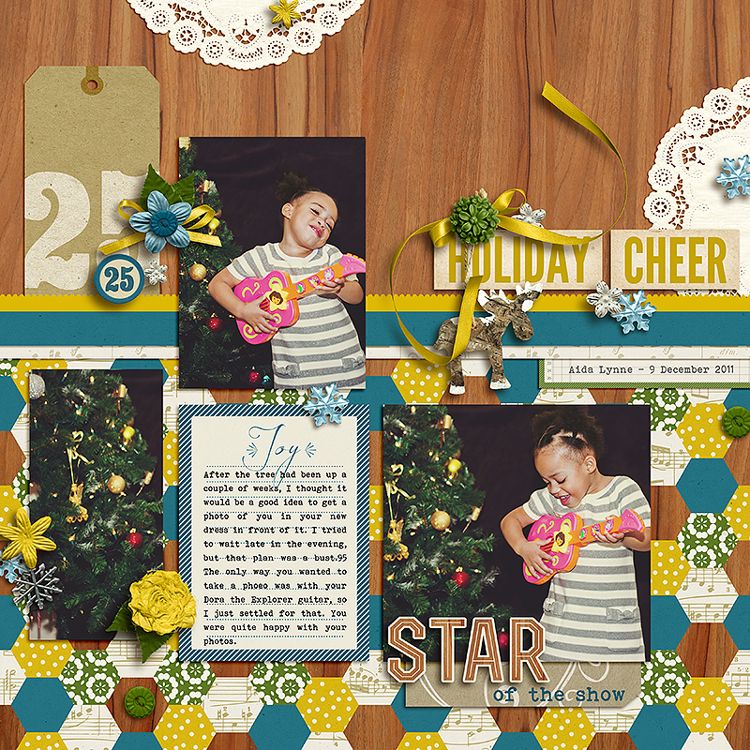 I also finished another Christmas page yesterday, and the one thing I noticed when I was creating my pages was that I shy away from more "themed" elements. I have been trying to venture out more and more because just flowers and ribbons get boring for me after some time, so it has been quite fun to play around with the more Christmas/winter themed elements. I almost always stay away from anything snow related. Here in Alabama, snow is beyond rare, but I figured why not…I have a few gold snowflakes on my tree. :) Yes- that is probably a silly way of thinking about it…but that's me…lol!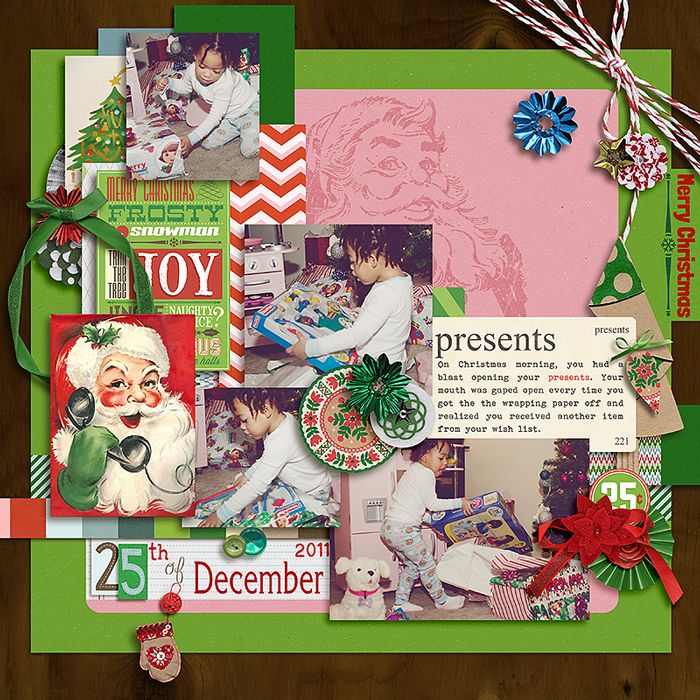 digital products used:
Peace and Love – Elements and Word Arts by Little Butterfly Wings These Papers Are Super Festive Allison Pennington Ephemera: trimming the tree & Christmas journal cards by Sahlin Studio Twinkle Paper Pack by Amy Jaz Very Merry and Vintage Christmas Light Reflectors by Sahlin Studio
I am almost certain I am addicted to all wood papers in any kit…lol! I am glad to finally be scrapping my Christmas photos from last year. While I posted some photos on FB for family to see, I never did scrap too many of them. I only had a few Christmas kits I liked and this year "bam!"…all over the place…gorgeous digital Christmas goodies in all color schemes. I am not one that needs the traditional red, white and green. I love experimenting with color. This year I will also be better prepared for photo taking and not use too much flash…lol! Last year, my photos were FULL of flash and it was so easy to tell; looking back on them, it annoys me to no end – but I am fixing as I go and as best I can.
This year will also be more fun since I got my daughter Elf on the Shelf. I actually have a quick funny story to share. When the box arrived from UPS, I let her open it in front of her dad and I. The first thing he does is go "oh man, that is creepy- don't sit that thing around me!" And what does my child do? She gets the most frightened look on her face. I am like "ughhh….WHYYY Denard??? Why do you have to be soooo ….???" It took a little talking with her, but Aida is confident that the Elf is from Santa and he is just here to check on her to see if she is being good until Christmas Day gets her. I even told her that we might have to watch the elf because he could be up to some things- all in fun though, nothing scary. I really thought he ruined it, but I let her sit the Elf (inside the box) in her room and she checks on him sometimes. She has even asked me if the Elf could call Santa for her. That just tells me the idea is okay in her mind now. So, if you are doing Elf on the Shelf and your significant other does not know what it is, please tell him first…that's my PSA…lol!!
Thanks for visiting!!