So, today I woke up a little groggy. I got my little girl up for school and out of the door with our 3 goals completed. I tell her that each morning I have 3 main goals: clothe her, feed her and make sure she is happy before leaving my sight for school. Well…still groggy and I decided to do something that she and her dad love to do. They both watch YouTube videos about their hobbies. I am not a listener at all. Even in school, I preferred to read on my own time because once the teacher started talking my mind went other places. Five minutes was all the attention I could give and then I would sit quietly and space out. Today – I decided to test this out with something that I love and have loved for a long time now.
I will admit that after 5 years of scrapbooking I probably have watched less than 10 videos on the subject. Like I said, not a listener. My sweet and creative friend that I talk to daily linked me to a YouTube page of a young man, Drew Scott. The first time I watched one or two and was excited but it fizzled out quickly. I am glad I went back and looked again…. because today…I got inspired! After watching a few of his start-to-finish videos, I want to scrap. Like, I have not had this good of a feeling in some time. I mean – I am still passionate about my hobby but just watching the videos has my mind racing with ideas of things I want to create.
I am primarily a digital scrapbooker but the first album I made (and still have) was not digital. I have always wanted to get into creating things with paper but with work and a family, I was just tired and I could barely do things with them and remain sane. So… now I think I am ready to try. I have been slowly building a stash of paper goodies and gathering ideas of what I want to "aspire" to create. Let me be honest…I am not very handy when it comes to tangible items (lol!) I think about school projects I have done..and some were really nice and some were not. Very hit or miss but now at 29… I am a perfectionist. I cannot do anything half way…my soul won't let me… my mind won't let me.
So…for now, I just want to share some things that I have found that are inspiring to me:
Of course, I cannot end the post without at least one share. I created a page as part of the 'Trend Watch' series over on The Lilypad blog.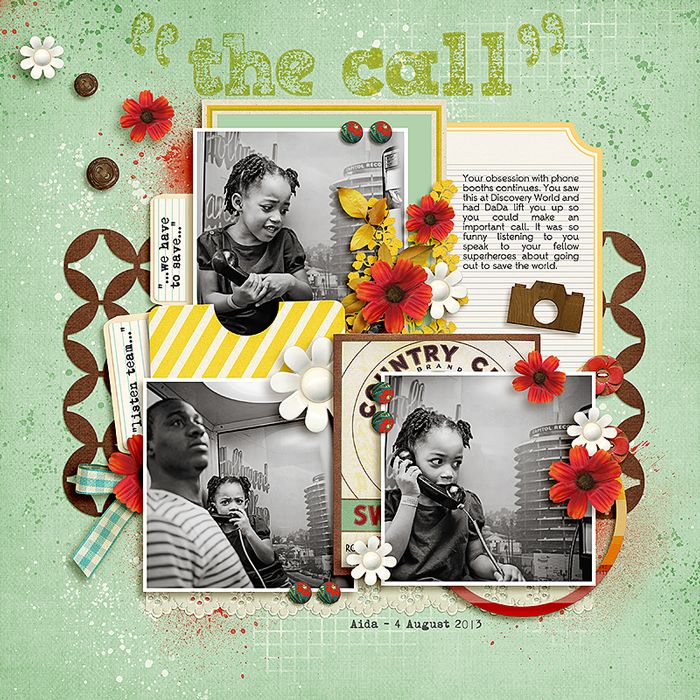 To get this look, I used the following digital items:
Thanks for visiting! [icon name="icon-smile"]