Looking through photos and I realize why I do not post nearly as many as I have taken. I hate converting and editing! Lately, I have not done much editing to my photos but even the little touch ups on white balance or the brightness or adding a little matte finish or even converting to black and white, I just do not have the drive to do it. It has been a very rainy week and I was hoping that we would be able to get out and explore. It would be nice to take photos elsewhere and maybe of some things, so that my daughter is not bombarded and so that I can have some to look back on of where we lived for this time.
I do have one to share today of my daughter. This was taken at the end of March. She had gotten some new boots in a larger size for next winter, but she really wanted to try them on. I kept telling her it may be cold. Well, she ran outside so quickly and once she felt the wind, it was over. I told her we would make it quick and this is all she would do.
This whole time it has been much colder than 30 degrees and she kept saying how hot it was in the house. It warms up a tad and all of a sudden, she is cold (outside and inside). Maybe she will not keep laughing at Mommy's cold hands (lol!).
Then, as I am getting ready to send scrapbook pages to be printed, I am combing through my 2011 pages to see what has to be "re-done" before I am okay to print. Here is one of these refreshed pages with a kit I have been itching to use.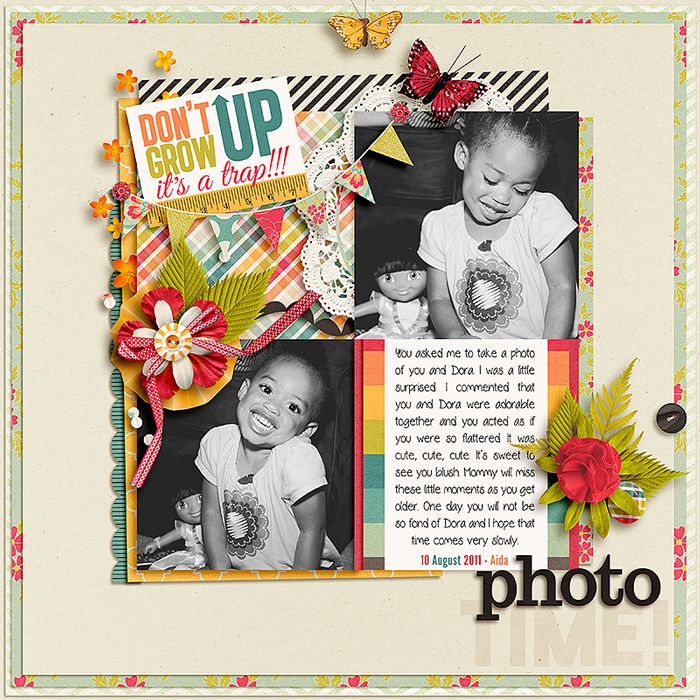 digital product used:
I really loved how the page turned out. I try to experiment with my pages because after doing them for so long, they all start to feel like they look the same. As I made this page, I knew it had to be nice and simple. One thing I am trying to include more is a title. Most times it is not that I do not want a title. It is more of me forgetting to add it…lol! Literally, forgetting to put the alphas on the page or I will put them on the page and hide their layer until I am finished and forget to make the layer visible again. Terrible memory, I have…lol!