Finally, the weekend is here. Probably the first I have welcomed in a while. This week has been a little crazy with my baby girl starting school. We have not been out of the house this many days in a row in a while… little weird, I guess. I have been planning to post on the blog for the past few days and just did not have it in me. It was like every day I found an excuse not to do it. Then lately, I find myself doing that with other things I planned on doing. Last night I was talking with my guy about working again and trying to see if it is worth it. He tells me he wants me happy and wants me to do something that I love. Plain and simple, right? No. Not for this girl. I did not love my job but I felt a sense of pride…or something. Not sure pride is the right word. I felt like I was doing something for the family that helped.
My day-to-day right now does not give me that same feeling. It has been a huge adjustment and even more-so now that ladybug is in school. With the time constraints of Mr. Man's work and school schedule plus that of ladybug, it would take some maneuvering. I do not want to do daycare or have someone else pick her up. I want it to be me or her dad. I like taking time to make her lunch and breakfast, do her hair, get her clothes ready for the week and handle of that other stuff. I did it before but I was so worn down and unenthusiastic, and frankly, some of it was half-done or never finished.
I cook more now. I can talk to and entertain my daughter and not feel the weight of having to watch the clock for work. For me, every day, I was counting the time for some reason or another. Still does not make wrapping my head around it any easier. If I could just figure it all out, I am sure life would be a little bit easier. Maybe.
Enough of that stuff… I did scrap. I have been wanting to create more and more pages and just have not been doing as many as I would like. I finished Aida's 2011 album finally and I am ready to finish up 2012 and project life for that year. One thing I have noticed with my pages now versus some of my older pages – I use more photos. It is hard to scrap with just one photo when I have taken a series of shots to tell a story. For the pages I wanted to share today, all of my photos are in black and white. I love color but every now and then it is nice to take it away and just let the photo be about the moment.
Both of these were created with products from The Lilypad's BYOC products for September. I love the color palette this time around, but I think I feel like that every month I see the BYOC offerings. This first page focuses on first day of school for ladybug. I took so many photos that morning and had no shame about having out my big camera.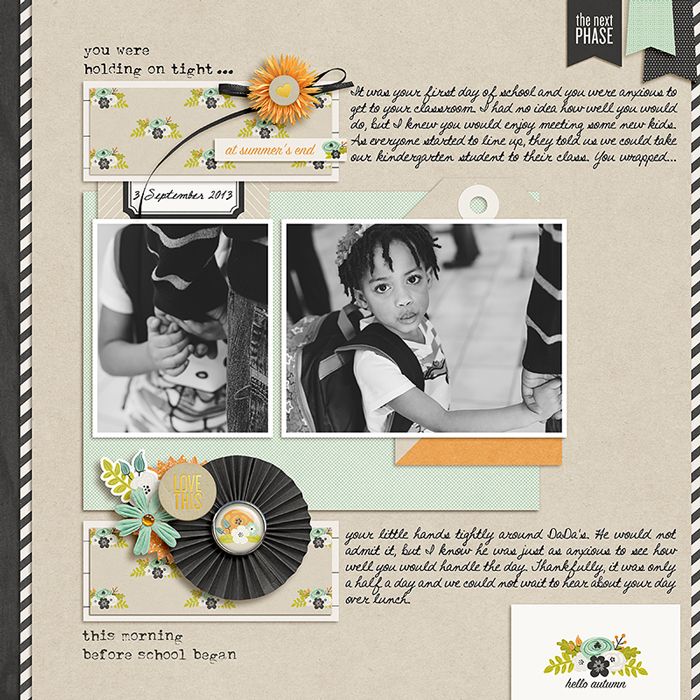 For the second page, I decided to go back to some of our summer photos. I saw the element pack and knew the exact photos I wanted to use. All of the park photos were taken with my DSLR but the photos of her and the ice cream were taken with my iPhone. Making all of these black and white was the easiest way to have them be cohesive together.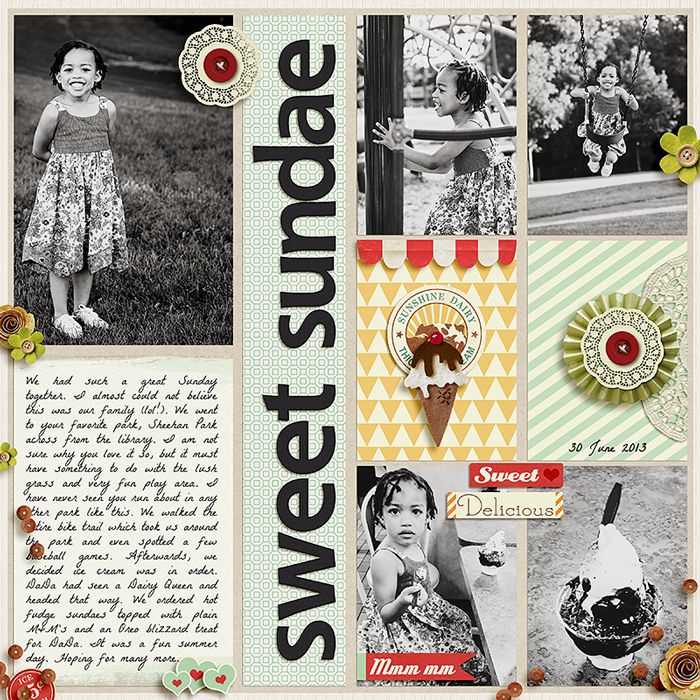 Both of these pages were created with the following digital products:
Now I am going to get back to my regular Saturday programming… bugging Aida while she tries to play games on the computer and catch some movies on the iPad. Hope your Saturday is going well!! [icon name="icon-smile"]