My little man is a month old now. It still feels like it was just days ago that we brought him home. He came home weighing 6 pounds 14.8 ounces and now he is getting close to 10 pounds. His little cheeks and legs are starting to fill out. He is just so cute making it hard not to cuddle and hold him most of the day. I am pretty sure he has gotten used to it because when I open Photoshop to work on a scrapbook page, he wakes right up. Sleep is definitely a figment of my imagination now (lol!). He is waking up every 2 1/2 to 3 hours and drinking about 3 ounces of milk at a time. Sometimes he drinks way too fast. It's like he thinks someone is going to snatch up his bottle and finish his meal.
This morning he missed out on his play time with his sister. She started school this week. Usually, she would play with him about 30 or so minutes in the mornings. He would kick and coo at her the whole time. Seeing them interact now is just too sweet. I cannot wait to see what they will be like together a few months from now.
At  a month old, Brayden is already scooting pretty well and trying to hold his head up consistently. He definitely moves a lot more than what I remember of his sister. He was laying on the sofa the other day (sleeping, as usual) and my husband told me to come see what he had done. Somehow he managed to go from a horizontal to a vertical position. I just do not remember babies doing all this moving at this age.
I got a chance to scrapbook … yay! Lately, it has been taking me much longer to complete a page. This little guy is no joke and I will admit that he is quite a handful. It may have taken a couple of days to complete, but I just love how it turned out using the Funtastical Bundle by Forever Joy Designs.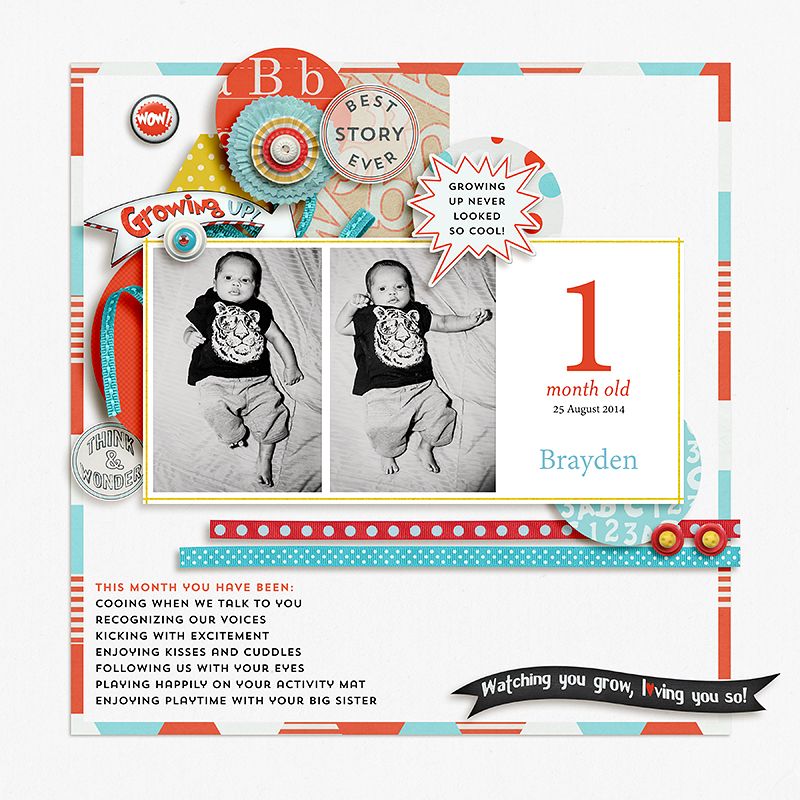 Thank for visiting!