Well… the holiday is over and I am glad. I cannot say that I am one of those parents to go all out for each holiday. I love celebrating with my family and teaching my daughter about the purpose of those days most important in my eyes, but Independence Day is a hard one for me to get into. I mean – most times, we went to my parents and they grilled out and we had a pool for kids to play in and just really have a fun time together as a family. I want my child to have just as many fun memories as she grows up.
So… Wednesday night I decided we would all go to see the fireworks. I knew there would be a crowd and we would come at the tail end of it since Denard did not get off work until 7 that evening, which was fine. We drove around a bit and finally parked to walk down to see the fireworks. Well… we walked probably 8 or so blocks and 4, or maybe 5 minutes after the fireworks started, my child whispered in my ear, "I am ready to go eat and go home." She had no interest in sitting or standing there looking at fireworks. I really wanted to try to get some photos but she was getting antsy. She was not afraid of the sound; she was completely uninterested.  I watched her scan the huge crowd a few times and I knew we had to go. I have that same feeling when I am around so many people. I almost cannot breathe, so the three of us headed back to the car. At least we beat the crowd getting out of there and even got in a good walk (twice!).
The next day we were going to grill some food and just hang out around the house together. I should have known better on that part. On the weekends, Denard and Aida do not wake up until after one in the afternoon. I can barely sleep past 10, and the only way I do that is to stay up well after 3 am. So, I was up Thursday by 9 or 9:30 and then followed Aida at noon and then Denard some time after 2pm. I just have to shake my head sometimes.Usually, if we are going somewhere, I will wake them up but I decided not to. They were eventually up and moving around at 3pm.  Aida just wanted to run around outside. I got a couple of photos, nothing too grand. I did make one page with one of the photos.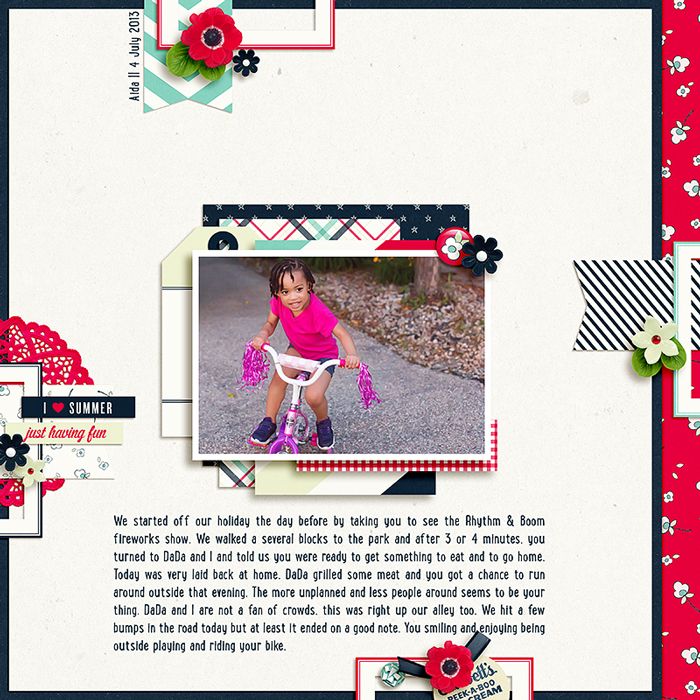 digital items used:
Thanks for visiting!!