I think I may be "that parent."  The parent is too protective of their child. Since she was born, there have not been too many times that we have been apart. I just cannot do it. I do not want to do it. She (my child) is on my favorite people list and that list is very short (lol!). My guy says I am too overbearing and the girl is not going to know what to do with herself. I think that is just wrong. She enjoyed daycare. When I would take off work to spend the day with her, she would ask me when I was taking her to daycare. She enjoyed playing with her friends. Now, since we have moved things are different. We don't know anyone here. We go to the park and she is so sweet approaching the other kids. She always starts "Hi, I am Aida. Do you want to play?" Sometimes she gets a response and sometimes not. I think this is why I am that parent. I worry about her. Before I was a parent, I worried about all types of things. Some that did not even directly affect me. Now that worry has shifted over onto my daughter.
We went to the zoo last week. Finding parking was a nightmare. The zoo was located almost in the corner of a neighborhood. It's hard to describe. They had a  parking lot but there is a park next to it. So, people were parked there and then the street parking was full and I was getting frustrated. I was talking to my mom which kept me sane…lol! I tried one last time and we got a space. I am glad I did not give up because Aida really enjoyed the zoo. I just let her lead the way and I followed. She had fun seeing the animals and even got a chance to feed some goats. At first she was scared, but she got over it when she saw me doing it. There was a Childrens' Zoo area where they had a train, carousel and a play area. I was nervous about her getting on the train but I really wanted her to ride without me and just enjoy the ride with the other kids. Some parents got on but to me that was a little too much. The train was small, so I figure let the kids enjoy it. Two adorable little girls were waiting in front of us, so Aida rode in the same car as them. By the time I got her on the train, all four of the little girls were squished onto one seat together. It was so cute. When she got off, she told me she had so much fun with the big girls (they were about 7 or 8 years old). So, I was happy that she was happy. One little step of letting go at a time … I am trying. At the play area, I did keep my eye on her but tried to keep my distance. The kids were literally "everywhere." I thought we would never leave this but it closed about an hour before the zoo, so we had no choice.
We got a chance to ride the carousel twice. Now…I did find out why I would rather Denard is along with us on these trips. How can I take a good carousel photo if I am on the ride too? Ugh! This drove me nuts. I took a couple of iPhone photos and a few with my camera before the ride started, but it was not the same! Lol! I am a crazy picture taking mama…and I cannot help it. :) Either way, we had a great day with just the girls. I have managed to make at least one page about the day.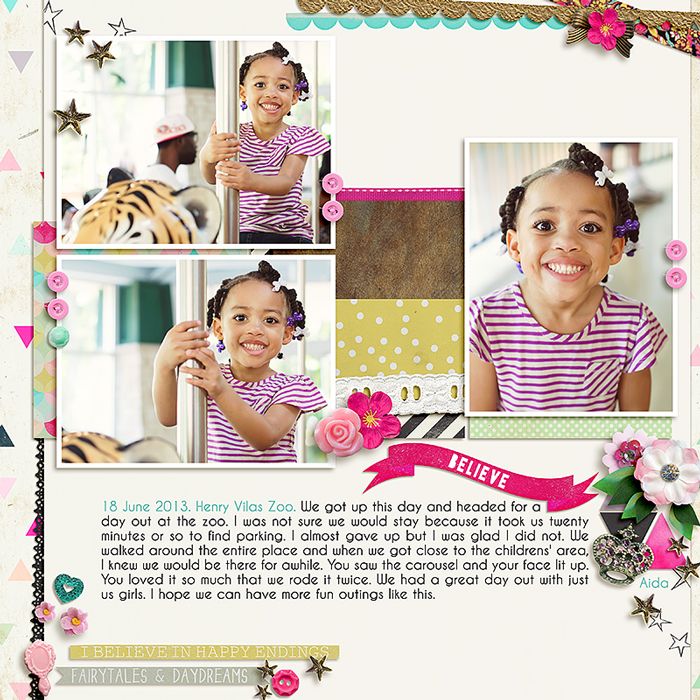 digital products used: