With all the Christmas kits debuting in the scrap booking world, I cannot help but get excited about the holiday season ahead. I am ashamed to say I still have plenty of Christmas photos to scrap from last year. I am not sure if it was because I took so many photos and I did not want to edit them, or I was just waiting for the perfect kit; there are a few photos I did not touch. So far- my two favorite stores have some amazing Christmas goodies. :) I tend to lean more towards the Christmas kit with traditional colors – red, white, green, but I love any good Christmas kit that inspires me to create a layout for my photos.
I want to share a couple of those pages I have made this week. Some of the products are released and some are releasing tomorrow (November 17th).
Christmas 2011: The photos are from Aida decorating the tree last year. She wanted to do it all by herself, so I put the ornaments on the plastic hangers and gave them to her to place at her heart's content. Being my controlling self (lol!) , I usually have a system as to how I decorate the tree, but I let her take the reins this time and it was beautiful once she finished. Of course, her dad helped her reach the higher places but it was just sweet seeing her get all into it- she was so serious! This is probably my favorite part of the holiday because half of our ornaments are ones my mother gave to me from when we used to decorate the tree at home. It is pretty cool to see Aida fawning over the same ornaments.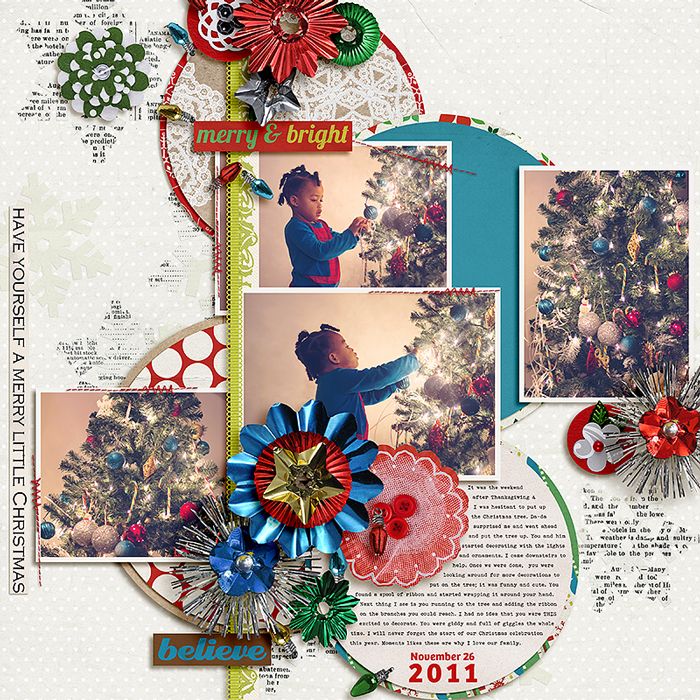 digital products used:
Vintage Christmas Light Reflectors, VeryMerry (embellishments), Brown Paper Packages (papers) by Sahlin Studio
Kitschy Christmas by Sahlin Studio and Jenn Barrette
Gift for Him: Last year we got Denard some wireless headphones to enjoy his PC games even more. Big mistake now that I look back on it…lol!! I am glad he has thoroughly enjoyed his gift. Aida was so excited to be giving her dad a present. She almost ripped it open for him.
digital products used:
A Merry December: Kit, Journal Cards, Add-On Alphas, Stickers & Flairs, Calendar Dates by Jady Day and Meghan Mullens *coming to SSD 11/17* [SSD]
Border Basics: Line Stitches by Libby Pritchett [SSD]
Project Scrap June 2012 Template by Shabby Princess
Font: KG Ways to Say Goodbye
I have thought more about my blog lately and what I would like to do. I find my daughter, FB friends and others have asked about digital scrap booking and how it works. I am going to attempt to do a series on how I scrap with a tutorial posted. I am not sure if it'll be all written or video or both, but I would love to have all of that information in one place. I still remember searching Google every day for tutorials on photoshop and scrap booking. I had no idea how it easy it was. It definitely gets easier over time. Now organization, I try but I am definitely not the best at that…lol!  I am sure if I was more organized I could scrap faster. A good day for me is finishing 3 pages within a a day, which rarely happens during the week. :( Anywhooo…I have the day off and I want to take my girl out for lunch and shopping. Happy scrapping and thanks for visiting!!