I hope that everyone had a wonderful Digital Scrapbooking weekend. I know I did. I did not shop too much. I spent quite bit of time in the TLP forums and scrapping a few pages. I really need to catch up on my 2011 album. I have some print credits but have yet to use them. I need to make this next batch worth it. lol! I think that's why I sit back and re-make my pages from the year before. I am so happy with my 2012 pages that I need to feel the same about any I print now.
One of my buys this weekend was the Scrap Pack at Scrap Stacks, the new Pinterest-like gallery for sharing scrapbook layouts or designs. I still have not organized by stacks exactly how I want them- maybe when I have more time. Back to this weekend- the scrap pack was pretty awesome so I had to have it. This first page is with Scrap Orchard's collaboration kit and some more items from my digi-stash. This photo is of my daughter on her way to daycare trying to tote all her "stuff" to the car…lol!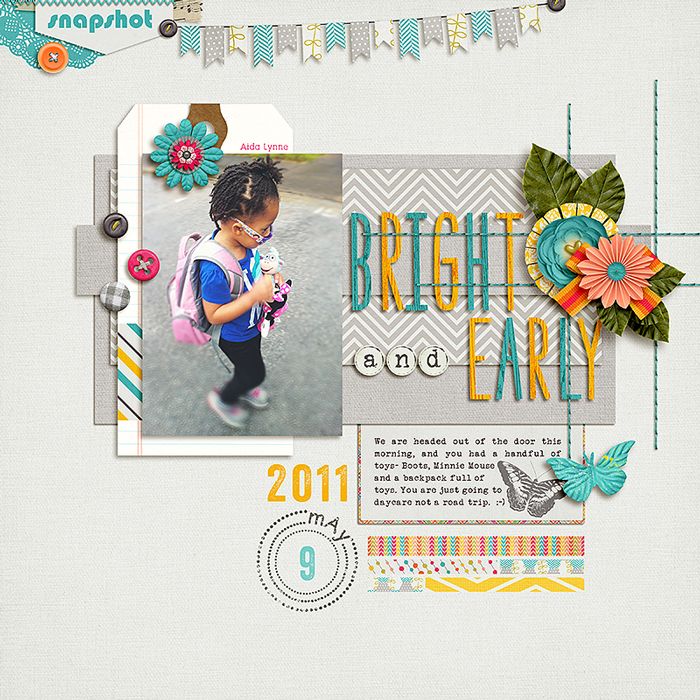 digital supplies used:
Storyteller Collab by Scrap Orchard
Writers' Block Tag by Gennifer Bursett
Stitching by AK (?)
Doilies by VN Digital Art
Affirmation Date Circle by Elise's Pieces
This next page is with some awesome goodies from The Lilypad. I am in love with every BYOC color palette, but this one was right on time. Loved it! I scrapped a page of Aida at the McWane Center from last year.
digital products used:
That's all for now. I have to get our clothes ready for tomorrow. The work week came so quickly; it is almost as if I did not have a weekend. Well let me get to my duties…. thanks for visiting!!