Only one more week before my daughter starts school. I am nervous and excited for her at the same time. All of our shopping is done ….so far. [icon name="icon-smile"] She loves to shop just as much as her mama. At the beginning of the summer,  I let her go ahead and start looking at book bags and lunch bags. Since it is her first backpack, I let her pick it out and of course she picked out her favorite character, Hello Kitty, with a matching lunchbox. I figure first year she should have what she wants since we won't really have to worry about her carrying too much in it. And being who I am, I have an extra backpack of my liking on standby (lol!).
She is ready to make friends and be a little social butterfly. I had to remind her that school is not just for socializing. It is a place to learn. I have also had to have a talk with her about a lunch time. I know she will want to buy lunch some days and I am all for her having that experience, but I do worry that she will not eat. She is a very picky eater and will not eat anything if she does not want it. We had some scares when she was 2 or 3 years old. Her lips and hands would turn blue and she was so cold. After a couple of trips to the doctor and some blood work, they said her iron was too low. She had to take iron drops for a while, which she hated. We have managed to never have that happen again and I would like to keep it that way. She and I made a list of food ideas for her lunch, so I will be shopping for all of that this weekend. I just want her to at least nibble..get something in her system.
The other issue we are will be getting her back to a normal bed time. She was always grumpy in the mornings so this part will be interesting. I am just hoping for the best. I really want her to enjoy her first year of school and do very well with her academics. Her dad and I are the nerds so she has to be our nerd spawn, of course (lol!).
Anyway, I have one page to share before I end this post. Aida has been wanting to ride her bike more lately. She is too tall for it, so hopefully next year she will have a bigger bike without training wheels. She has done pretty good balancing it. The training wheels are just a bit loose, so it doesn't stand up perfectly unless she helps to balance it. I thought that would help her get used to the idea of not having them. That is not the case at all; she would not let me touch those little plastic wheels. So… that is the idea behind my page here…and of course, enjoying the sunshine and warmth while it lasts.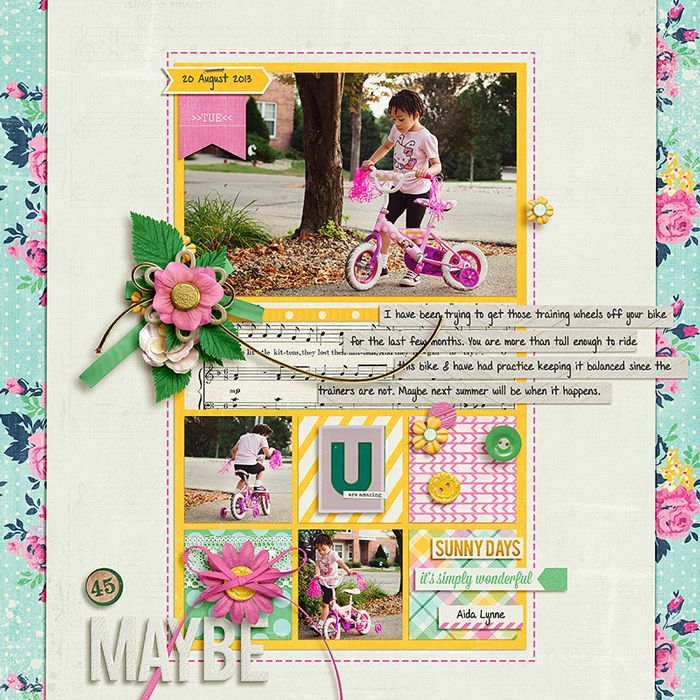 digital products used:
Thanks for visiting!